Poulsbo and Ralph's Red Apple Market
Recipes
https://www.ralphsredapple.com/Recipes/Detail/6699/Fruity_Frozen_Ice_Pops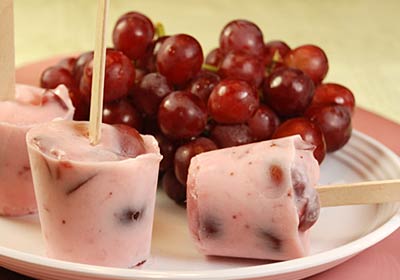 Fruity Frozen Ice Pops
Yield: 6 pops
Preparation Time: 10 minutes; Freeze Time: 2 hours
2
containers
(6 ounces each) strawberry yogurt

1
cup
red seedless grapes, cut in half
Directions:
1. Empty yogurt into small mixing bowl.

2. Add grapes to yogurt and mix well.

3. Spoon into 6 small (3 ounce) paper cups and insert a wooden stick into center of each cup.

4. Place on a metal pan and freeze at least 2 hours or until frozen solid.

5. Tear the paper cup and peel the sides off as you eat the pop.
Please note that some ingredients and brands may not be available in every store.
Poulsbo and Ralph's Red Apple Market
Recipes
https://www.ralphsredapple.com/Recipes/Detail/6699/Fruity_Frozen_Ice_Pops
.